In this article, we will provide some simple steps to reset the vCenter Server password. Sometimes somebody will check the box and let the password expire and sometimes you don't or forgot to document the password. No worries, follow a few simple steps and you are ready to log in again in no time!
For expired passwords, the default vCenter Server Appliance password expires after 90 days. For more information, see Change the Password and Password Expiration Settings of the Root User
Reset the vCenter root password
To reset the password of the root account, you have to go to the console of the vCenter.
Caution: Do not skip this step!
Note: If the vCenter Appliance is on the same ESXi hosts it manages. Connect directly to the ESXi host that it is located on to perform these steps.
Before you begin take a snapshot of the vCenter appliance
Restart the application and press the "e" key while booting
Now customize the Photon OS startup options
Add the following parameter "rw init=/bin/bash"
Hit F10 to boot the appliance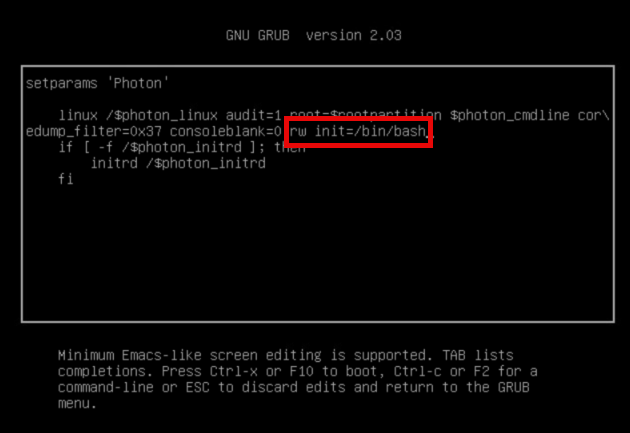 The appliance will now boot directly into the shell.
Enter the following command "passwd"
Now you can reboot the appliance and log in with your new root account password.
To get more information check out this article: docs.vmware
Summary
That's all folks!
Please get in touch with me or leave a comment, if you have any questions or want more information on this or other topics.